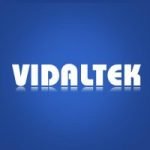 Overview
Company Description
Vidaltek is a Software Development and IT Consulting Company located in Houston, Texas, USA with main offshore software development centers in Vietnam. Established in 2004, Vidaltek has been providing cost-effective and reliable IT Solutions to a wide range of clients in the United States. We provide the following key services:
– E-Commerce Services
– Web Content Management System
– Open-source software integration
– Transform Legacy System
– Software Testing
– Data Entry Services
– Offshore Outsourcing Partnership
Vidaltek has already delivered over hundreds of launched projects (which ranges from 200 to 3,000 hours of works for each project) to our North America clients in different industries. Vidaltek specializes in the areas of Web and Application Development. By using the best technologies available from Microsoft (.NET Framework, ASP.NET, Web Services, Microsoft SQL Server Database, etc.) Vidaltek can give you the best results with proven technologies. We also develop applications on the Linux platform for companies that look for flexible, powerful yet cost-effective solutions. Another service that Vidaltek provides is the customization and integration of open source systems such as Joomla!, OScommerce, DotNetNuke (DNN), and WordPress to deliver efficient solutions that tailor to your needs.
What is the culture like?
Most of the employees (or Vidaltekees as we often refer to ourselves) are in our mid 20′s and still singles. So we tend to spend most of our time at work – we often take along our laptops home and continue to work in the evening. In Vidaltek office buildings, there are shower rooms and kitchens stuffed with coffees, teas and all-you-can-eat snacks (including instant noodles, by the way).
Work hours are different for more senior employees who already have families. They generally work 8:30 AM – 6 PM unlike the new hires. It is common for the managers to work most evenings at home as well. All managers are on rotation to constantly monitor emails and provide technical support 24/7 to Vidaltek's clients. Finally, there are employees who work odd hour shifts when their jobs require interfacing with clients who work across different time zones.
Work hard, play hard!
That phrase has somehow become a cliché but at Vidaltek, it is more than just a saying. Yes, it is true that Vidaltekees are working very hard, but we know how to enjoy life too. After all, what is life about? At Vidaltek, we believe it's always good to reward employees with some serious playtime after having spent many hours doing solid hard work…